UnionActive Newswire

Current news directly from Union Locals in the US and Canada.
Avaya Outsourcing
09/23/14 - CWA Local 7777
Outsourcing of American Jobs Hurts all of us.      STOP THE WAR ON COLORADO WRKERS Avaya Inc is outsourcing Colorado Jobs.  Outsourcing hurts families, students, homemakers, taxpayers, local business and our economy.
Need a Union Taxi Driver?
09/23/14 - CWA Local 7777
Call Union Taxi for all of your transportation needs All are members of CWA Local 7777!     303.922.
American Airlines, US Airways Vote To Join Teamsters-CWA
09/23/14 - Teamsters Local 492
In a vote announced today by the National Mediation Board (NMB), more than 15,000 passenger service professionals at the newly-merged American-US Airways have voted to join the CWA-IBT Customer Service Employee Association.
American Airlines, US Airways Workers Vote Overwhelmingly To Join Union
09/23/14 - Teamsters Local 492
Thousands of service agents at American Airlines unionized with their new colleagues at U.S. Airways on Tuesday, making the most of last year's airline mega-merger. Article Written by dave.jamieson@huffingtonpost.com In a combined union election, airline employees voted on whether to join CWA-IBT, a joint union of the Communications Workers of America and the Teamsters.
Charlotte Fire Fighters' Retro BBQ on October 3, 2014
09/23/14 - IAFF Local 660
.
Register to Vote !!
09/23/14 - UAW Local 602
Open Enrollment Benefits Information
09/23/14 - CWA Local 1103
The 2015 Annual Open Enrollment Dates are as follows: Active Members: October 21, 2014 to November 4, 2014 Retired Members: November 6, 2014 to November 20, 2014 Retirees can continue to make changes up through December 1, 2014 to be effective January 1, 2015.
Politics
09/23/14 - IBEW Local 191
Opportunity to serve the political community by IBEW members Dear Brothers and Sisters; Here is a chance to help candidates that IBEW 191 has endorsed and serve the Washington State Labor Council. Participating in door to door canvassing. Time schedule: 9:30am-2pm. Activities---coffee, training, door to door, BBQ.
Instructor of the Year
09/23/14 - International Brotherhood of Electrical Workers Local 194
Rusty Wilkinson has been selected instructor of the year for Region 4 by Klein Tools. Voting is now open to vote for the National Instructor of the Year. I know Rusty has helped many people over the 30+ years he has been instructing at the Shreveport Electrical JATC. Lets turn out the vote to honor Rusty for his efforts.
Upcoming Event
09/23/14 - Connecticut State Lodge Fraternal Order of Police
Farmington NATPRO Adventure Race 5 Mile Obstacle Race Tunxis Mead Park Sunday October 5th Day of Registratitition Opens at 0830 am Starts at 10am Individual or Teams up to 3 For More Informatitition or to Register now visit our Website httttttp://NATPRO.Farmington-ct.
Watch the Retro BBQ's Video
09/23/14 - IAFF Local 660
Retro Bar-B-Que Promo from Charlotte Firefighter Assoc. on Vimeo.
Watch the Retro BBQ's Video
09/23/14 - IAFF Local 660
Retro Bar-B-Que Promo from Charlotte Firefighter Assoc. on Vimeo.
Notice of Brother Melvin Felix
09/23/14 - TWU Local 568
.
Teamsters Local 8 Wolf for Governor Rally, September 27, 2014
09/23/14 - AFGE 3rd District
Teamsters Local 8 in State College, PA have invited AFGE locals and members to attend their Tom Wolf for Governor Rally at their union hall in State College, PA. The event is being held, Saturday, September 27, 2014 at 9:30 am. Please see the flier for details. AFGE members that are interested are encouraged to attend in unity and solidarity with the Teamsters.
Local 1103 Fighting for All Workers
09/23/14 - CWA Local 1103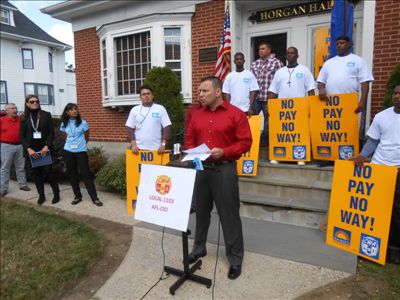 CWA Local 1103 announces at press conference that it has forged an emergent partnership with Don Bosco Worker's, Inc. The reason: to counter the crime of wage theft which undermines our local economy and principles. Workers, including those belonging to a union, are only as strong as the weakest amongst us.
On-Sites Ice Cream Social
09/23/14 - CWA Local 7777
ASA Annual Wage Review Discussions - Third Year Review (Text & Video)
09/23/14 - AMFA
September 22, 2014 -- In accordance with the terms outlined in Article 23, Wage Rules, AMFA and Alaska Airlines met to discuss the Annual Wage Review on September 19, 2014, at the Hangar in Seattle, Washington. Both sides reviewed all data used for the review and agreed on that data. We then started by conducting an external review of our all-in wage compared to our primary competitors in accordance to the agreement; the rates used were as of October 17, 2014, the effective date of the contractual 1.5% pay increase. Here are those all in rates, which includes base pay, license premiums, line premium, and longevity at the top of each of those scales...
WHY IT PAYS TO BE UNION
09/23/14 - American Postal Workers Union
$686 Cost-of-Living Raise in Paychecks Dated Sept. 26 Career employees represented by the APWU will recieve a Cost-of-Living Adjustment (COLA) of $686 per year beginning with paychecks dated Sept. 26, in accordance with the 2010-2015 Collective Bargaining Agreement. The raise is the result of an increase in Consumer Price Index (CPI-W).
PACE Act
09/23/14 - IUOE local 370
News Release MURRAY, MILLER, POCAN INTRODUCE BILL TO INVEST IN APPRENTICESHIPS, INCREASE SKILLED WORKERS Promoting Apprenticeships for Credentials and Employment Act (PACE Act) By 2018 the U.S.
Teamster News
09/23/14 - Teamsters Local 71
Status of Equity Distribution Lawsuits
09/22/14 - TWU Local 568
.
**NOTICE**ELECTION OF OFFICERS
09/22/14 - Communications Workers of America Local 1120
.
Workers Unanimous in Support for Gibson
09/22/14 - Montana State AFL-CIO
Where endorsements are concerned, some decisions are simple, others take a closer look. In House District 84, unions were faced with two candidates that had both been active leaders in their unions. Steve Gibson negotiated the first union contract on behalf of the employees of the Pine Hills Youth Correctional Facility in 1978.
Workers Need Contracts
09/22/14 - IBEW local 453
SWA FMT Negotiations Update #11
09/22/14 - AMFA Local 32

AMFA/Southwest Airlines Contract Negotiations Update Update #11 September 22, 2014 The Negotiating Committee is providing this update to the AMFA Membership at Southwest Airlines. This report is the only official authorized written source of negotiating communications by the Committee.
AMFA-SWA Facilities Maintenance Technician Negotiations Update #11
09/22/14 - AMFA
September 22, 2014 -- We met with the Company in Dallas, Texas on Wednesday, September 17, 2014, for a scheduled two day Facility Maintenance Technician (FMT) negotiation session. We began with the Company presenting their counter proposals for articles 13: Sick Leave and On-The-Job Injuries and 20: Insurance Benefits. After working to understand the Company's positions, we took a committee caucus to work on our counter offer. When we reconvened, the Company accepted our counter offers and we tentatively agreed (TA) to these articles.
2014 Hispanic/Latino-a Celebration
09/22/14 - Lansing Labor News
.
Golf Outing To Assist Local 21 Members
09/22/14 - International Brotherhood of Electrical Workers, Local Union 21
September 22, 2014 IBEW Local 21 will be hosting The Michael A. Kunas Memorial Fund Golf Outing and Dinner on Sunday, October 5, 2014. It will be held at Glenwoodie Golf Course in Glenwood, Illinois. A portion of the proceeds will be donated to our late union brother Terry Quandt's daughters Amber, Ashley and Angela in their father's memory.  Please join us.
America Without Unions?
09/22/14 - IBEW local 453
America Without Unions Posted February 25, 2014 at 1:39 pm by Jeff Faux Jeff Faux 1 Comment 966 Print This piece originally appeared on the Huffington Post.
From the Desk of Business Agent
09/22/14 - IATSE Local 33
Hello Everyone Come One Come All, if your available. Tonight, Monday, September 22, 2014 at 5:30 pm, Picket/bannering at the Arclight Theatre. We had a great turn out last time, let's do that again. We will be meeting at the Pizzeria located at the same complex that the Arclight Theatre is in, 6360 West Sunset Blvd., Hollywood, Ca. 90028.
2014 Picnic
09/22/14 - Charlotte Area Local APWU
~~Volunteers Needed... Come One, Come All to our.
Workers Needed!
09/22/14 - GCC/IBT District Council 4
Schiele Graphics located in Elk Grove Village is looking for a Combo Person for the Bindery Department. MUST BE ABLE TO CUT If interested in the above position please contact Willie Page at 847-434-5455.
Attention Zodiac Seats US Members
09/22/14 - Teamsters Local 767
ATTENTION ZODIAC SEATS US MEMBERS As of 5am CST Tuesday Septemeber 23,2014 Teamsters Local 767 Members at Zodiac Seats US are on strike. Members are to report to the tents set up on the strike line which is located on Zodiac Drive near Highway 82.
APFA Joint Negotiating Committee
09/22/14 - TWU Local 513
Brothers and Sisters, The APFA Joint Negotiating Committee (JNC) has reached a Tentative Agreement that leads the industry. Through 150 days of expedited bargaining, it has been the JNC's goal to secure the highest wages and best work rules of any network carrier and is proud to report that the goal has been reached. Next week, the APFA leadership will meet in Washington D.C.
Shop Steward Seminar
09/21/14 - Teamsters Local 71
Shop Steward Seminar As most of you may recall we had a very successful Shop Steward Seminar Seminar this past February at the Union Hall.  Since that time we've had overwhelming requests to have another "make-up" seminar for those of you who were unable to attend or who have been newly elected as Shop Stewards.
CWA-CSC BARGAINING UPDATE
09/21/14 - CWA Local 2222
CSC BARGAINING UPDATE Sunday September 21, 2014 CWA-CSC Members, Your Bargaining Committee spent last week fighting off HUGH take-backs demanded by CSC. The Company wants concessions in everything from Healthcare and Wage increases to drastic cuts or elimination of the Severance and EAIP plans.
Ohio AFL-CIO Convention
09/21/14 - OPWU
Ohio AFL-CIO Convention - Cincinnati, Ohio The Ohio AFL-CIO recently completed their 29th Biennial Convention in Cincinnati, Ohio. A total of 416 delegates and 132 guests were in attendance. The OPWU was represented by Secretary/Treasurer Helmer Semjonovs and myself.
2014 Membership Appreciation Day
09/20/14 - Teamsters Local 492
Teamsters Local 492 would like to thank everyone who attended the 2nd annual Membership Appreciation Cookout held on September 20th, 2014. Click Here to see all of the photos.
Moving Expenses
09/20/14 - AFA-CWA Local Council 57
We know many of you have questions about Moving Expenses upon crossing the SWA partition after completing SMT.  We've compiled previously published information into one communication to help.  If, after reading this information, you still have questions, you may contact TWU for contractual questions at communications@twu556.
ABSENTEE BALLOT REQUESTS
09/20/14 - AFA-CWA Local Council 57
HOW TO REQUEST ABSENTEE BALLOTS As a reminder, the General Election will be held Tuesday, November 4. The last day to register to vote is Monday, October 6. Many Flight Attendants anticipate being away from home on Election Day, and it's quite simple to request an absentee ballot. Follow the link below, and follow the directions.
Merger Update - Fleet / Staffing / Operations
09/20/14 - AFA-CWA Local Council 57
Following lengthy meetings with various departments this past week, we have some operational information you may find helpful during the final quarter of the AirTran operation. NOTE: This is a forecast only and subject to change.
CWA President Larry Cohen Announces He Will Not Seek Another Term
09/20/14 - CWA Local 1103
Dear Sisters and Brothers: After much thought, I have decided not to seek reelection next June as President of our union. I informed the Executive Board at our meeting today. I am confident that our Executive Board can support a strong candidate but this is not a campaign note and that decision is up to you.
Merger Update - AirTran's Final Months
09/19/14 - AFA-CWA Local Council 57
Through a series of meetings this week with Corporate Safety & Regulatory Compliance, Labor Relations, Cabin Services, and Crew Resources, your Union leaders continued discussions with the Company regarding items important to AirTran Flight Attendants in the final weeks of the AirTran operation.
Headlines Provided By:
UnionActive.com - Website Content Management System with Powerful Communication Tools for Union Website's, 100% Union Made in the USA.
GrievTrac.com - Online Grievance Tracking Software, 100% Union Made in the USA.
Unions-America.com - Union Website Design, Union Website Hosting, 100% Union Made in the USA.
Profirefighter.com - IAFF Website Design, IAFF Website Hosting, 100% Union Made in the USA.